Harmful bacteria level at popular Hawaii tourist beach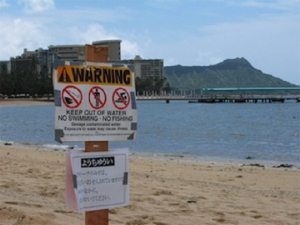 Ala Moana Beach Park, across the street from the largest shopping mall in the South Pacific, is well known among tourists and locals. The park provides visitors with a place to enjoy all kinds of sports and water activities.
In walking distance to Waikiki and next to the Hilton Hawaiian Village Lagoon and Yacht Harbor, this beach is a center of the state's lucrative travel and tourism industry.
The Hawaii State Department of Health yesterday (Wednesday) issued a high bacteria advisory for Ala Moana Beach Park.
The department's Clean Water Branch detected levels of enterococci that exceeded the threshold for safe water, which was at 1,013 per 100 milliliters, during routine beach monitoring. The elevated level means that potentially harmful micro-organisms such as bacteria, viruses, protozoa, or parasites may be present in the water, according to department officials.
"Swimming at beaches with pollution in the water may make you ill," the department said in a news release. "Children, the elderly, and people with weakened immune systems are the most likely populations to develop illnesses or infections after coming into contact with polluted water, usually while swimming."
The most common illness associated with swimming in water polluted by fecal pathogens is gastroenteritis. Symptoms include nausea, vomiting, stomach ache, diarrhea, headache, or fever, according to the department.
Signs have been posted at Ala Moana Beach Park, and the advisory will remain in effect until water sample results no longer exceed the threshold level of 130 enterococci per 100 milliliters.