Hawai'i Symphony Orchestra's first-ever Pop-Up Concert a wild success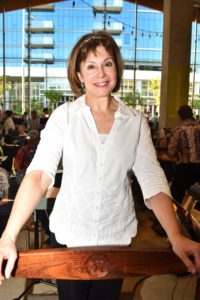 JoAnn Falletta conducted the free concert, which was a smash hit
The Hawai'i Symphony Orchestra presented its first-ever Pop-Up Symphony at the new mixed-use retail complex "Salt in Our Kaka'ako" near Ala Moana Boulevard and Coral, Saturday night. This area was once an industrial area, bustling with activity derived from salt production. Similar to London's Docklands, this area is swiftly becoming re-imagined as a trendy, fashionable Mecca for the glitterati. Honolulu hot spots keep pushing farther and farther from Waikiki proper – past Ala Moana Shopping Center, past Ward Village, and now in the car dealership zone near Kaka'ako Waterfront Park. The Symphony performed beneath a covered loading dock known as "The Barn".
JoAnn Falletta conducted the free concert, which was a smash hit. I would say there was standing room only, but even standing areas were packed to capacity. If there was ever a definition for success, this concert was the gold standard. I am truly grateful this kind of music still exists…live symphony at a price anyone can afford.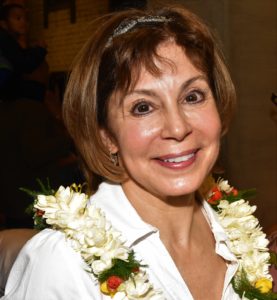 JoAnn Falletta
The Symphony opened with Magnificent Seven, a well-known theme from one of the classic Westerns. Elmer Bernstein composed this score, as well as scores to The Ten Commandments, The Great Escape, To Kill a Mockingbird, Ghostbusters, The Black Cauldron, Airplane!, The Rookies, Cape Fear, Animal House, and The Age of Innocence. Bernstein won an Oscar for his score to Thoroughly Modern Millie (1967) and was nominated for fourteen Oscars in total. He also won two Golden Globes, an Emmy, and was nominated for two Grammy Awards.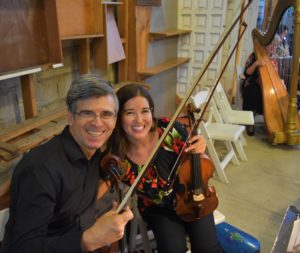 Next, the symphony performed Pyotr Ilyich Tchaikovsky: Sleeping Beauty Suite Op.66a – No. 5: Valse. Tchaikovsky completed the opus in 1889, being the second of his three ballets. The director of the Imperial Theatres in St. Petersburg, Ivan Vsevolozhsky, approached Tchaikovsky on 25 May 1888 to compose the music for a ballet adaptation of Charles Perrault's La Belle au bois dormant; Tchaikovsky was thrilled to take the commission. A true genius, his oeuvre includes 7 symphonies, 11 operas, 3 ballets, 5 suites, 3 piano concertos, a violin concerto, 11 overtures, 4 cantatas, 20 choral works, 3 string quartets, a string sextet, and more than 100 songs and piano pieces. I've always had a warm spot in my heart for Tchaikovsky; he was born on May 7, and he was gay. We hold these two elements in common, so each year on my birthday I break out The Year 1812, festival overture in E♭ major, Op. 49. That work celebrates Russia's defense against Napoléon. I also break out my Abba collection, just to rub salt in Napoléon's eyes. Oh, Signore di Buonaparte, the agony of defeat!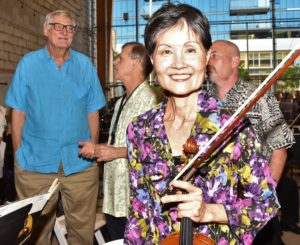 Next, The Hawai'i Symphony Orchestra performed the selections from Georges Bizet's 1875 opera Carmen. There are two Carmen Suites for orchestra, The Symphony played from Suite 1, and included: Prélude: Act I, Prélude: "Fate" motive; Aragonaise: Interlude (Entr'acte) before Act IV; Séguedille Act I, Seguidilla: Près des remparts de Séville; and Les Toréadors: Theme from Prelude to Act I and Procession of the Toreadors from Act IV: Les voici! voici la quadrille des Toreros. Bizet died suddenly at age 36, on his wedding anniversary; ne never knew how world-famous his work would become.
The Pop-Up Concert's first half concluded with Pirates of the Caribbean: The Curse of the Black Pearl, by composer Klaus Badelt. This was the first fantasy swashbuckler film in the Pirates of the Caribbean series. The score was composed for the mega-grossing film series, based on Walt Disney's Pirates of the Caribbean attraction at Disney theme parks. I have to admit, I'm a much bigger fan of Disney's Baroque Hoedown by Jean-Jacques Perrey and Gershon Kingsley. But alas, there is no ride nor film associated with it…yet. I'd kill to hear The Hawai'i Symphony Orchestra perform a mashup of Disney's Baroque Hoedown with Arrival of the Queen of Sheba by George Frederick Handel. That would be worthy of recording.
After a twenty-minute intermission, the symphony returned to perform the theme from Hawaii Five-O. The work was composed by Morton Stevens, who started out as an arranger/conductor for Sammy Davis Jr. and became director of music for CBS on the West Coast. In 2015 Stevens' children sued CBS over the song, claiming the television network wrongfully filed a renewal registration after Stevens died and that the new show infringes the heirs' rights. 'Hawaii Five-O' may be the most enduring TV theme song ever composed.
A concert unwittingly celebrating the number 5 (Sleeping Beauty – 5, Les Toreadors 5, Hawaii 5 O) The Symphony dared not leave out Johannes Brahms – Hungarian Dance No. 5 in G minor, based on the csárdás by Béla Kéler titled Bártfai emlék. Now, Brahms and I also share May 7 for our birthdays, but I remember him most for his perseverance. He began composing his first symphony in 1854, it wasn't premiered until November 1876, 22 years later; now that's undeterred ambition to be admired.
George Gershwin is one of my idols. The music flowed so easily from his creative mind; what a tragedy to lose him at such a young age. Like John Kennedy Jr., Iz Kamakawiwo'ole and Charlotte Brontë, George went to meet his maker at age 38. The Hawai'i Symphony Orchestra honored his legacy with a selection of songs from Porgy and Bess – widely regarded as one of the most important American operas of the 20th century. Clara; A Woman is a Something Thing; Summertime; I got plenty o' Nuttin; Bess, You Is My Woman Now; Oh, I Can't Sit Down; There's a Boar Dats Leavin' Soon for New York; It Ain't Necessarily So; and Oh Lord, I'm On My Way comprised the tribute.
Hedwig's Flight, written by John Williams, is taken from Harry Potter's Wondrous World. Hedwig is that wonderfully beautiful pet snowy white owl, so the music in Hedwig is gossamer light. The Symphony worked miraculously to convey the feeling of magic and mystery associated with the world of Harry Potter.
John Philip Sousa's magnum opus The Stars and Stripes Forever came next; by a 1987 act of the U.S. Congress, it is the official National March of the United States of America. In his autobiography, Marching Along, Sousa wrote that he composed the march on Christmas Day in 1896. Being that this pop-up concert was held on "the sixth day of Christmas" (December 30) this dotted playful melody has a meaningful connection. Five children were selected from the audience to each play the mini-role of guest conductor; they were delightful in their spirited interpretations. JoAnn Falletta was thrilled.
Now, I was wondering what would be the fifth work to round out this concert which was ostensibly celebrating the number 5? Would it be trumpet-rich "Mambo number 5"? Its parody "Chinese Combo No. 5"? Walter Murphy's "A Fifth of Beethoven"? Free samples of Coco-nut Chanel number 5, handed out in Oprah Winfrey fashion? Perhaps a song about a starfish, or any creature having pentagonal symmetry. Towards the end of the film Monty Python and the Holy Grail (1975), the character of King Arthur repeatedly confuses the number five with the number three – but not four. My OCD was getting the best of me until I noted that the concert began precisely at 5 pm – oh, I do like les faits accomplis.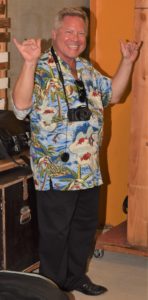 Radetzky March, Op. 228, composed by Johann Strauss Sr. was the encore for the pop-up concert. 'Father of the Viennese Waltz' Strauss was commissioned to write the piece to commemorate Field Marshal Joseph Radetzky von Radetz's victory at the Battle of Custoza during the First Italian War of Independence. The Hawai'i Symphony Orchestra was magnificent performing this work, and the patrons unequivocally ecstatic.
[embedded content]
The Symphony received thunderous applause for this march. Listening to this Strauss piece makes me want to join the army and conquer the world, but then I remember that I am old, in a wheelchair, and also a pacifist … so I move on (quite literally).
Follow the author Anton Anderssen at https://www.facebook.com/ILoveAnton/