Top UNIGLOBE members meet in Wailea, Hawaii for annual Chairman's Circle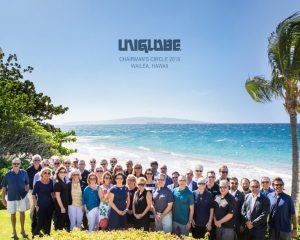 The top performing UNIGLOBE Travel Management Companies from around the world came together on December 4, 2017 for the annual UNIGLOBE Chairman's Circle meeting. The "by invitation only" meeting was held at the Fairmont Kea Lani in beautiful Wailea, Hawaii.
The overarching message for this year's event was successful succession. In his opening address Chairman & Founder U. Gary Charlwood said: "In business, there are two approaches to long-term planning; one is preparing an exit strategy (eg. the sale of the company), the other is successful succession planning. The one we recommend is successful succession planning."
"After all, you and your team have dedicated your lives to create something of value." Charlwood encourages members to "build on this value by hiring good people and/or encouraging second generation family members to continue your legacy. This way, your business, and your people, will continue to thrive and grow in the long term."
The first UNIGLOBE office opened in 1981, and today many Chairman's Circle members are either from some of the original agencies or are the beneficiaries of successful succession planning.
"To me, UNIGLOBE is a family, and to have all the top performing members in one location for Chairman's circle is certainly beneficial," commented Steven Hicks, Business Operations, UNIGLOBE Travel Partners Atlanta. "We are the top players in the industry and we want to share our strategies with one another to remain competitive on a global scale. We continually refine our business model, so it's great to be able to bring our heads together and share ideas at this event."
The four-day agenda was packed full of workshops, presentations from suppliers, and motivational speakers. This year's guest executives were from Delta, United Airline, and Amadeus. Adam Kreek – Olympic Gold Medalist and Social Entrepreneur – was the keynote speaker for this event. He presented on The Story of Change and held an outdoor fitness session.
Chairman's Circle is an accreditation to UNIGLOBE agencies that are generating specified revenue and managing their business according to the worldwide UNIGLOBE System Standards. The annual Chairman's Circle meeting is an opportunity for qualified members to plan and discuss trends, innovations, and issues in the travel industry, as well as network with other top performing agencies and guest suppliers.
Working globally to serve clients locally across more than 60 countries, UNIGLOBE Travel leverages current technologies and preferred vendor pricing to save clients time and money on business and vacation travel planning. For more than 35 years, corporate and leisure travelers have depended on the UNIGLOBE brand to deliver results and experiences that go beyond expectations. Uniglobe Travel International Limited Partnership is headquartered in Vancouver, Canada.
For more information, click here.